How Hail & Storm Damage Can Compromise Your Roof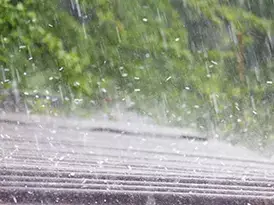 Roofs come in many shapes and sizes, they serve to protect you and your home. However, sometimes in the worse of weather conditions your roof can be weakened. Reducing how effective the protection your roof provides is. Storm damage to a roof can occur in many ways including hail, strong winds, and downed trees. If your roof has become damaged due to a strong storm, then it is likely that a roof replacement may be necessary.
There are a variety of signs you can look for to see if your roof has sustained damage during a storm. However, it is important that you remain safe while inspecting your roof. We recommend checking out of any windows that have roof access or looking for damage with binoculars. If you have any doubts about whether your roof is damage contact our experts. We are professional roofing contractors with years of experience inspecting roofs in El Paso for damage. We can help you determine whether your roof has been damaged.
Three Main Causes of Storm Damage to Roofs & What to Look For
Significant storms can cause different types of damage to your roof, this includes missing shingles, worn shingles, divots, impact cracking, and more. Often they are caused by one of three issues, strong wind, hail, and downed trees or limbs. In all of these cases, it is possible that you may need a complete roof replacement.
In most cases storm damage is covered under your homeowner's insurance policy. Be sure to check with your insurance agent to make sure your roof is covered for replacement in the event of storm damage. Our team at A&M Roofing El Paso will work with your insurance company to provide you with complete roof replacement if your roof is damaged during a storm.
Wind Damage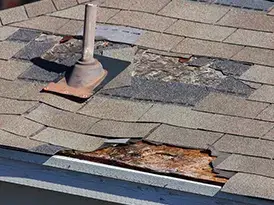 Significant wind can cause several issues with your roof including blowing shingles off of your roof. Missing shingles can lead to water damage in your home from leaks and other interior damages. Some other types of wind damage are not as easy to spot as missing shingles. Especially if the seal that provides the protective surface is broken.
Most roofing manufacturers provide a wind warranty on their shingles; it is important to compare the wind ratings when making your selection on a new roof. Our team at A&M Roofing El Paso can help by working with you to help you choose the proper roofing for your home.
Potential Signs Of Wind Damage:
Missing shingles
Thin lines where the granules on the roof have been worn off
Creased shingles
Hail Damage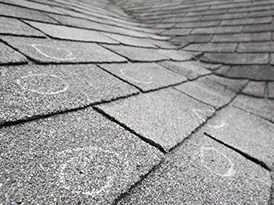 Hail storms are hard to miss, they are generally a widespread event and not just isolated to your house. Hail can bruise shingles causing indentations that can be hard to see but can cause cracks leading to leaks in your home. You should consider hiring a roofing contractor to inspect your roof after a hail storm to ensure there was no damage.
Our team at A&M Roofing El Paso specializes in providing home and business owners in El Paso with professional storm damage roof inspections and roof replacements. Contact our experts if you think you may have damage on your roof due to a hail storm.
Signs Of Hail Damage On Your Roof:
If you notice damage to other areas of your house or belongings you should have your roof looked at
Small divots on the edges of shingles
Indentations where the shingle granules are missing
Excess roof granules in your gutter system
Falling Debris and Downed Trees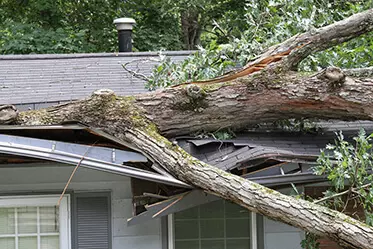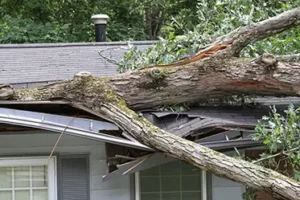 This is one of the easiest problems to diagnose when it comes to storm damage to your roof. Often strong winds and hail storms can damage trees around your property potentially causing a limb to fall and break through your roof. If this happens to you, you should contact our team immediately. We can help you work with your insurance to have your roof replaced quickly to ensure your home stays safe and dry.
Signs Of Falling Debris Damage:
Visual damage to the roof deck
Missing shingles
Cracked shingles
Professional Hail & Storm Damage Roof Services
Our team at A&M Roofing El Paso offers professional hail and storm damage services for residential and commercial roofs in El Paso. If you have noticed any roof damage, or if you need to have your roof inspected contact our team. We can provide you with an inspection and a free estimate for roof replacement. Fill out our online contact form, or call our experts at 915-342-2000 to schedule a roofing inspection.