Professional Downspout Installation & Replacement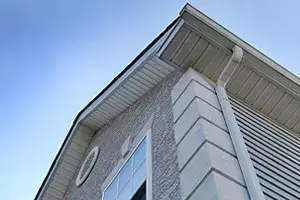 Downspouts are an important part of any gutter system, they are responsible for directing water from your gutters and roof away from your home. Downspouts are typically attached to the corners of homes and to the edges of gutters on your roof line. They can be made of steel, copper, vinyl, or even wood on much older homes.
Our team at A&M Roofing El Paso knows how important it is to have a properly functioning gutter system. Directing water away from your home ensures that your home remains dry and undamaged no matter the weather. Our team offers professional downspout services and replacement for homes and businesses in El Paso. Whether you need a complete gutter system replacement or just downspout replacement we can help. Replacement downspouts can be color-matched to the rest of your gutter system resulting in a seamless install that blends perfectly with your existing gutters. Get in touch with our team to learn more about our downspout services.
What Causes Damage To Downspouts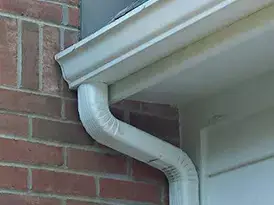 There are a variety of reasons why your downspout may have been damaged. From improper drainage causing wood rot to clogs, animals, and other outdoor debris affecting the functionality. We recommend regularly inspecting and cleaning out your gutter system and downspouts to ensure they function properly no matter what time of year it is.
If you have noticed that your gutter system is no longer working contact our team. We can provide you with an inspection and estimate on downspout replacement services should you need it.
Leaf Relief Gutter Protection System
In some cases our team may recommend that you have a gutter guard system installed on your home. These systems, including our Leaf Relief Gutter Protection System, are put in place to keep your gutters and downspouts free of debris year-round. Our team offers installation for gutter protection systems to help you keep your home safe. Get in touch today to learn more.
Warning Signs Of Clogs
Water leaks over the edge of the roof line
Moisture isn't coming out through the drainage system to the lawn
Eroded earth can be seen next to the foundation
Paint is peeling on siding or fascia
Gutters are pulling away from the fascia board
Contact Our Team For Downspout Services In El Paso
Whether you need a complete gutter system or just a downspout replacement we can help. We can provide you with an inspection and free estimate for downspout services. Fill out our online contact form, or call our experts at 915-342-2000 to schedule a gutter inspection.